Blacks with F*ck the Police shirts
attack fans at Rams game
Op-Ed by Rev James M Wesley Jr. October 19, 2014 10:25 PM
The heading I just cut and pasted from the RED FLAG NEWS SERVICE says it all and before you get to the following photos and tags here is my take. If it happens to offend you go pray about it...because it's the TRUTH ANYHOW.
SAD-SICK-AND-SORRY...This is lowdown and lawless...can't justify the behavior. St Louis needs to prosecute those arrested to the full extent of the law for assault. The truth is the so called DEMONSTRATORS WEARING THE "F*CK THE POLICE" T-SHIRTS ARE MARCHING LIKE A MOB, BULLING INNOCENT PEOPLE THAT HAPPEN TO BE WHITE, SUPPOSEDLY MAKING A STATEMENT FOR A "FALLEN THUG" THAT DIED THE WAY HE LIVED....DIGNITY? NONE! CLASS? NOPE! RIGHTEOUS? NOT EVEN CLOSE!. DO YOU REALLY THINK YOU ARE "MAKING A STATEMENT FOR ALL BLACK AMERICANS?" I CAN SPEAK FOR MYSELF...IF I WERE THE ONLY ONE OUT OF THE 20+ MILLION IN THE POPULATION (AND I KNOW I'M NOT) YOU WOULD STILL BE A BUNCH OF LOW INFORMATION JERKS BEHAVING SHAMEFULLY. SELAH
The St. Louis Rams upset the Seattle Seahawks today. Sadly, afterwards, Black Mike Brown protesters dressed in Fuck the Police t-shirts attacked white fans as they exited the game. There were two arrests and two injuries.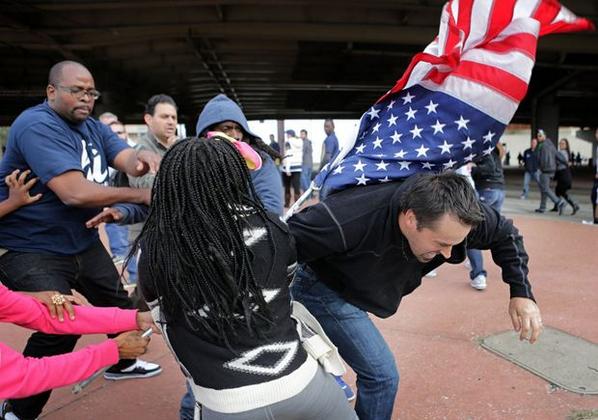 Blacks with F*ck the Police shirts attack fans at Rams game

These were some of the protesters wearing 'Fuck the Police' shirts, though these aren't necessarily the people below who triggered the brawl after the Rams game.
Apparently, it pissed off some Mike Brown protesters because one person had an American flag:
Blacks with F*ck the Police shirts attack fans at Rams game – Image: Gateway Pundit